You can protect Minnesota's most important natural areas in the Twin Cities Metro Area.
Your land is important to you and has a unique character and history. As a landowner, you can be compensated for permanently protecting your property with a conservation easement.
The Minnesota Land Trust is currently accepting applications to participate in the Twin Cities Metro Habitat Protection Program, a conservation initiative to permanently protect high quality wildlife habitat in the Twin Cities Metro area.
The Minnesota Land Trust is a nonprofit conservation organization working to protect and restore land throughout Minnesota. Over the past quarter century, the Land Trust has worked with 150 private landowners to protect nearly 17,000 acres of the Metro's treasured places. Metro habitat is critically important to protect water quality, wildlife habitat, green spaces for aesthetic beauty, and in some cases recreational benefits for outdoor enthusiasts.
For more information
If you have any questions about the program or the application process, please contact Kristina Geiger at 651-917-6295, or kgeiger@mnland.org.
This page will help you decide if the Twin Cities Metro Habitat Protection Program is right for you. Below is information about the program, conservation easements, project selection criteria, and an application.
The Metro Protection Program works for you
The Minnesota Land Trust is seeking landowners interested in securing a lasting legacy for their lands through conservation easements funded by Minnesota's Outdoor Heritage Fund.
Conservation easements are a vehicle by which landowners perpetually safeguard the conservation values of their property through legally-binding land-use restrictions.
Lands protected by a conservation easement remain in the landdowner's private ownership. In addition, public access is not required.
The easement stays with the land ensuring the permanent preservation for generations to come.
Program Goal
Permanently protect high quality natural habitat and unique features of the Metro region through perpetual agreements that work for the landowner.
What restrictions are included in conservation easements?
Each conservation easement completed by the Minnesota Land Trust is unique and is individually crafted to reflect the special characteristics of the land and the particular situation of the landowner.
However, certain minimum restrictions are required in order to protect the targeted natural habitats and associated species in the Program area. These include:
Feedlots are not allowed
Buffers of 150 feet must be established along all wetlands, intermittent and perennial streams, rivers and lakes prior to closing of the easement
Agricultural use is limited to current areas and no more than 20%.
A habitat management plan is required for all lands enrolled in an easement. More detailed plans would be required for pasturing livestock or harvesting forests. These plans are typically paid for with grant funding, not by landowners.
Requirements to apply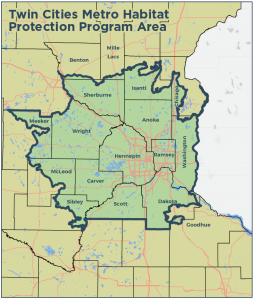 In order to protect habitat complexes in the Metro, the Land Trust has set certain minimum criteria for inclusion into the program. Lands:
Must be located within the Metro Program area (see map)
Must contain high quality natural features including native plant communities (forests, prairies, woodlands), trout streams, shoreland along rivers and streams, or rare and threatened species
Must not be already enrolled in permanent protection programs, such as RIM. Lands in non-permanent protections programs such as CRP may be eligible
Your application will be more competitive if you are willing to donate some or all of the value of the conservation easement. Projects that are the best fit for the Metro Habitat Protection Program will be larger in size (40 acres and above) and will have limited agricultural use (less than 20% required).
Selection Process
Application Review
Applications will be reviewed, ranked, and prioritized after the deadline.
Applications received after the deadline are not guaranteed to be reviewed for the current phase of this program, but may be considered later if additional funding becomes available.
Landowners must indicate their desired compensation—cost per acre—for the easement on their application. Please note that the Land Trust cannot pay more than the full appraised value of the easement.
Prioritization and Selection
Easements will be funded in order of assigned priority. Audubon Minnesota and the Land Trust will prioritize potential parcels using two sets of criteria:
Ecological
Habitat quality and quantity
Context relative to other protected lands such as parks, wildlife refuges, other conservation easements
Other benefits may include scenic value, water quality goals, and others
Cost per acre of property
Landowner willing to donate some or all of the value of the conservation easement
Ready to apply? Apply online here.
For a paper copy of the application and landowner questionnaire, contact Kristina Geiger. A PDF copy is available for download here.
Questions? Contact Kristina Geiger at kgeiger@mnland.org or 651-917-6295.
---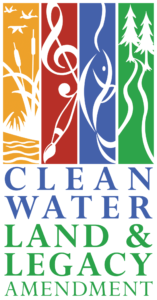 Funding for this program was provided by the Outdoor Heritage Fund as recommended by the Lessard-Sams Outdoor Heritage Council.