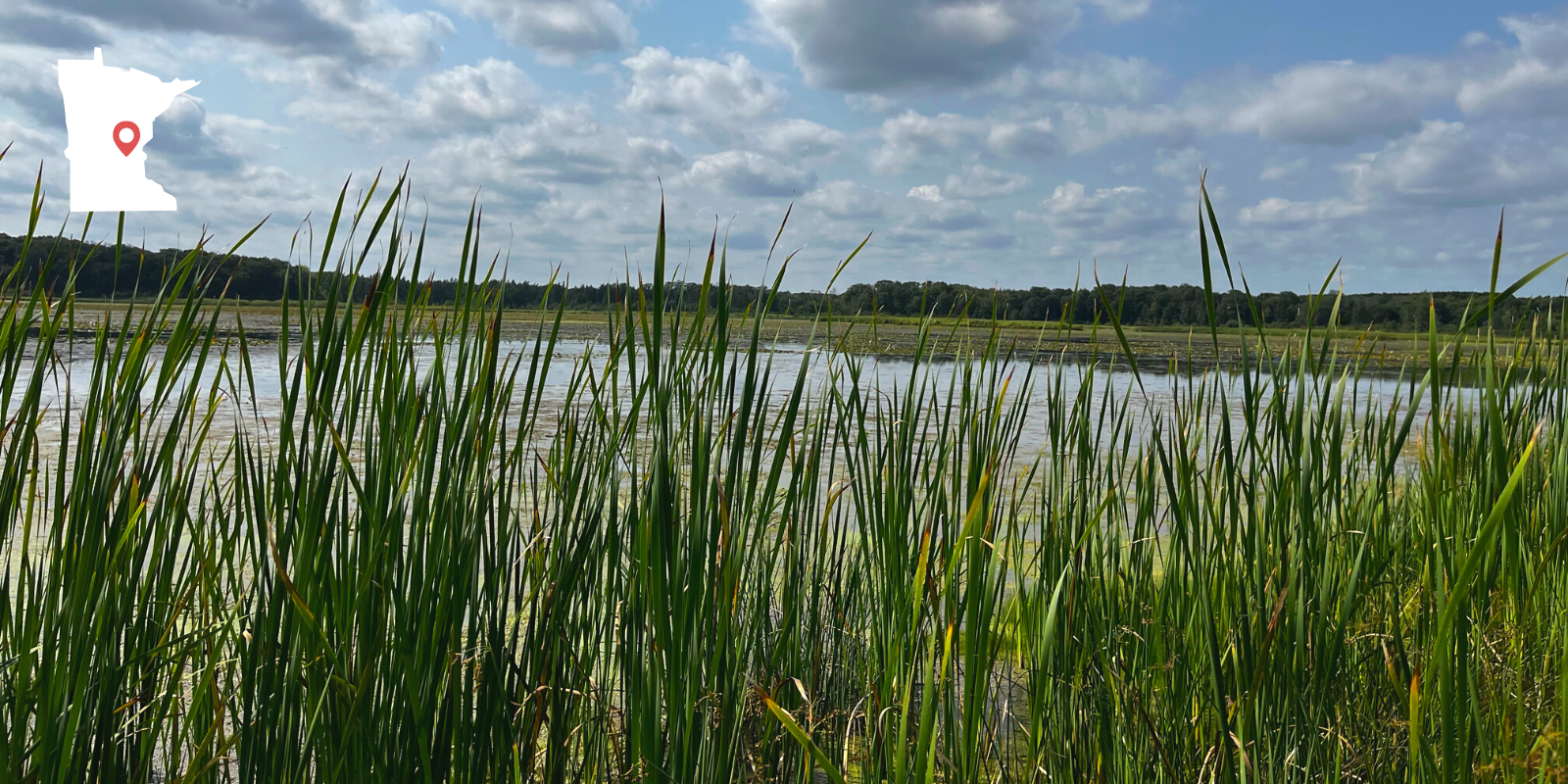 The Barrett family, headed by landowners Dale and Betty Barrett, have demonstrated incredible persistence in their steady pursuit to permanently protect Tennyson Lake in Isanti County, Minnesota, in the Minnesota Land Trust's Twin Cities Metro conservation priority region. To date, they've permanently protected 322 acres of land or water and almost two miles of shoreline across three separate conservation easement projects spanning nine years. The most recent installment added almost 83 acres of protected land and water, including 4,235 feet of Tennyson Lake shoreline.   
82.6 Acres Protected
Water: 60.26 acres
4,235 shoreline feet
Wetlands: 17.76 acres
Forest: 4.07 acres
Grassland: .29 acres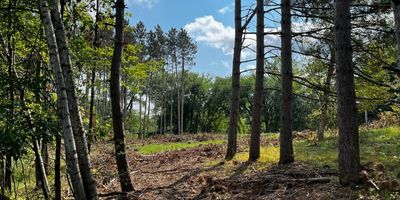 Wildlife Supported in the Area
Blanding's turtle
Trumpeter swan
Lark sparrow
American white pelican
Common loon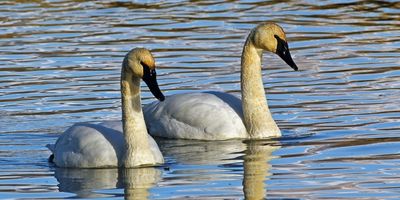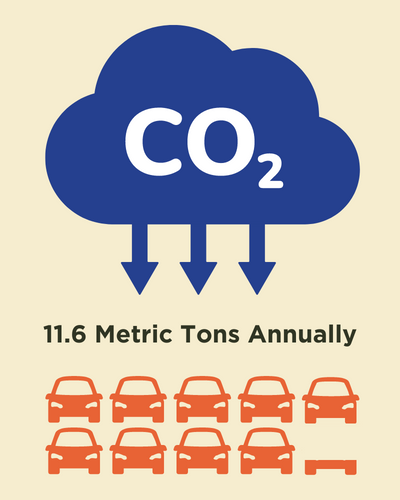 According to Conservation Program Manager Kristina Geiger, the protection of larger contiguous blocks of habitat provides significant benefits, "It helps ensure that land management is consistent across large areas, which is better for wildlife habitat. And the Barretts are constantly working to improve habitat and forest health on the land. With this conservation easement, they've managed to protect almost all of Tennyson Lake—plus they were the drivers behind protecting Dale's parents' homestead in the next town and are so committed to conservation that they've even started helping their neighbors protect their land too." 
Preserving Tennyson Lake
Tennyson Lake is an approximately 120-acre shallow lake located in the Middle Rum River sub watershed. It is part of a chain of lakes that extends to the southwest and is classified as a Natural Environment Lake by the Minnesota Department of Natural Resources (DNR).
While deep, cold-water lakes get a lot of attention in the local conservation community, shallow, smaller lakes are also important. Tennyson Lake hosts a diverse array of plants and animals like the American white waterlily, marsh fern, cattail, trumpeter swan, American white pelican, and lark sparrow.
Because these lakes are shallow, more weeds are visible on the water surface. This might seem unsightly to the untrained eye, but is actually an indication of a healthy lake. The robust plants on the lake bottom hold together the entire ecosystem—they keep sediment in place, compete with algae for nutrients, and provide food and habitat for fish and wildlife. And native vegetation crowds the shoreline of healthy, shallow lakes.
The conservation easements that protect Tennyson Lake help ensure that the shoreline remains undeveloped as recommended by the Minnesota DNR, providing significant protection in the face of ongoing high-density residential development around Minnesota's lakes, especially those near population centers like Minneapolis and St. Paul.
Tennyson Lake's Wetlands
In addition to the lake and shoreline, this easement contains approximately 78 acres of permanently protected wetlands (with another 92 wetland acres included in the previous two easements secured by the Barretts). These wetlands include some native plant communities that are at-risk of being eliminated in Minnesota, such as southern tamarack swamp, bulrush marsh, and northern wet ash swamp.
The bog birch-alder shore fen on the protected property is a particularly interesting wetland feature as demonstrated by two Minnesota Land Trust Program Managers!
A Floating Mat in the Wetlands
The bog birch-alder fen creates a floating mat composed of floating aquatic plants, mud and peat which covers much of the northwestern portion of the protected property and forms an island in the lake providing additional food and habitat. The uplands and vegetated wetlands in the northwest portion and southwest corner of the protected property are part of the 424-acre "Tennyson Lake Area" Site of Moderate Biological Significance as identified by the Minnesota Biological Survey Map. That means that the area contains some rare species, moderately disturbed native plant communities, and/or landscapes that have a strong potential for recovery.
Wetlands like those found around Tennyson Lake perform crucial functions for the surrounding lands, waterways, animals, and the people that live in the region. They improve water quality, preserve wildlife habitat, reduce runoff, retain floodwater, reduce flood damage, and improve groundwater recharge.
Loss of Wetlands Compounded by Climate Change
In Minnesota, a large portion of important wetland habitat was destroyed during the twentieth century as it was converted to crop fields. The loss of naturally occurring wetlands is felt even today—possibly more acutely—due to climate change and the increase in heavy precipitation events.
These rains increasingly cause flooding and flush greater amounts of nitrates and phosphates from agricultural fields into streams, rivers, and lakes, imperiling aquatic habitats, fish, and other animals and making water unsuitable for recreation much less drinking. Preserving and restoring more wetland habitat is a top priority of the Minnesota Land Trust because they're critical for supporting species biodiversity, promoting climate change resilience, and for protecting the water we all need to survive.
The Nature Conservancy's Resilient and Connected Landscapes project studies and maps resilient lands and significant climate corridors. Overall, the protected property is considered a climate resilient site with the following ratings:
Resilience—Slightly Above Average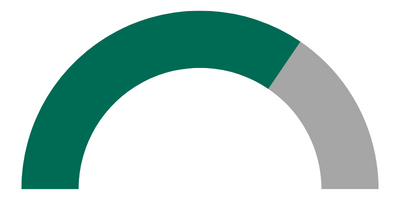 Relatively high capacity to maintain species diversity and ecological function as the climate changes
Connectedness—Above Average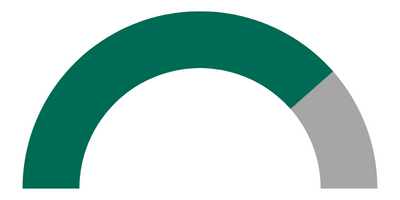 Few human-created barriers (major roads, agricultural fields) so species can migrate towards suitable areas despite a warming climate
Diversity—Slightly Above Average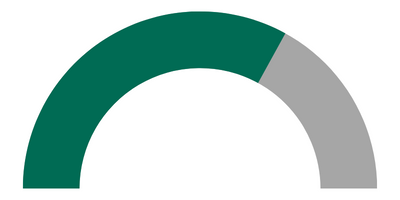 Surrounding area has variable topography, elevations & hydrology contributing to relatively high diversity of microhabitats
Protecting the Twin Cities Metro & Outer Regions
The Twin Cities Metro conservation priority area is home to a majority of Minnesota's increasingly diverse population. Here, the Minnesota and St. Croix Rivers merge with the Mississippi River, providing critical corridors for resident wildlife and migratory birds. This region includes a variety of habitats, from Big Woods forests to prairies and wetlands, which support one of the highest concentrations of Species in Greatest Conservation Need (SGCN) in the state.
Unsurprisingly, these diverse natural habitats also provide outstanding scenic and recreational opportunities for the large population base of the Twin Cities. As land conversion intensifies for human uses, natural habitats and water quality are increasingly threatened.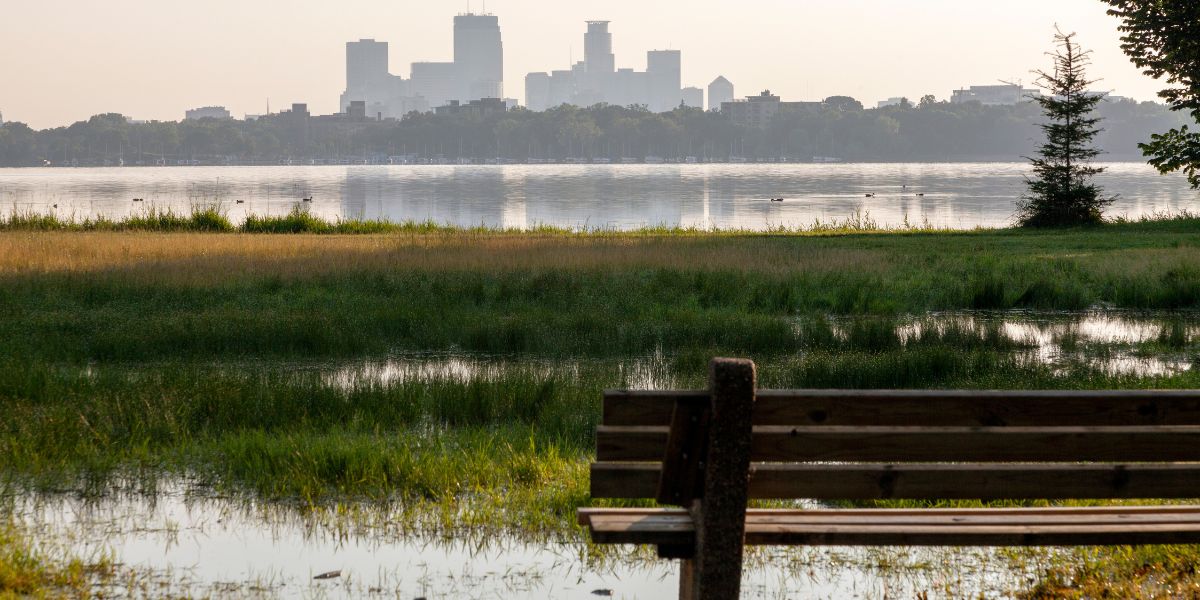 Do you want to protect your property in Sherburne, Isanti, Anoka, Chisago, Washington, Ramsey, Hennepin, Wright, Scott, Carver, Meeker, McLeod, Sibley, or Dakota county?
Help Protect More Land & Water
Near the Twin Cities
Your gift helps protect and restore more important and imperiled habitat across Minnesota, including habitat for waterfowl and shorebirds and nutrient filtering wetlands. 
The Original People of this Region
The predominant vegetation in this region originally included oak savanna and upland prairies surrounded by wetland complexes. Agricultural land conversion, few natural wildfires, and more recently, urban development, have resulted in the loss of most of the historic prairies and savannas.
Importantly, this portion of Minnesota is the contemporary home and ancestral land of the Mdewakanton and Wahpekute Dakota people. It has also been home to the Ojibwe people who migrated to the region from the Atlantic coast around 1,500 years ago following prophecies that urged them to move west, to the "land where food grows on water."
Prior to contact with Europeans, both groups of Indigenous people hunted and fished, gathered the products of nature, and stewarded the lands through practices handed down through generations—often through stories and songs—referred to today as traditional ecological knowledge.
Indigenous people were systematically forced off their lands and onto reservations through treaties with the U.S. Government, contributing to poverty, illness, death, and a grievous loss of traditional spiritual and life practices and cultural identity. The Treaty of Traverse des Sioux in 1851 opened around 24 million acres of land in southern and western Minnesota to European settlement and permanently changed the landscape of the region. Learn more about treaties in Minnesota.
Protected Property Photo Gallery
Click or tap on the photos to view full sized images of this beautiful, protected property and related wildlife and habitats.
More from the Twin Cities Metro
Persistence Pays Off—Protecting Tennyson Lake in Isanti County, MN

The Barrett family, headed by landowners Dale and Betty Barrett, have demonstrated incredible persistence in their steady pursuit to permanently protect Tennyson Lake in Isanti County, Minnesota, in the Minnesota Land Trust's Twin Cities Metro conservation priority region. To date, they've permanently protected 322 acres of land or water and almost two miles of shoreline …

Read more

Ann Bancroft Partnership Protects Vital Metro Area Land Forever

Bancroft, Minnesota Land Trust, and Washington County partner to protect 118 acres over two properties The Minnesota Land Trust, Washington County, the Minnesota Department of Natural Resources (DNR) and two landowners, including polar explorer Ann Bancroft, have successfully closed on a land conservation partnership project that permanently protects approximately 118 acres over two properties in …

Read more

Protecting the Waters of Hennepin County

Twenty-five years ago, Tim and Susan Clark bought a parcel of pastureland in western Hennepin County. Their goal was simple, to create a home for themselves while restoring the diverse and natural lands that had once thrived on the property. And now, thanks to a conservation easement through the Minnesota Land Trust and Hennepin County, …

Read more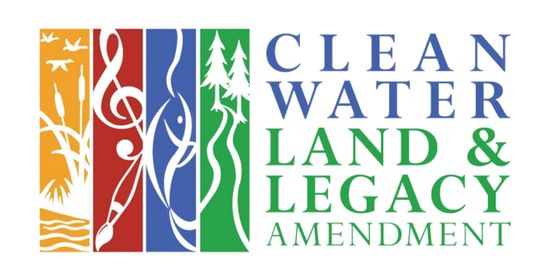 Funding for the Land Trust's costs and expenses associated with the acquisition of this Easement has been provided by Minnesota's Outdoor Heritage Fund ("OHF") as recommended by the Lessard-Sams Outdoor Heritage Council. Specifically, this Easement was funded through the Anoka Sand Plain Habitat Conservation–Phase 7 program.