On September 18, 2021 Treasured Places was graciously hosted by Camp Olson YMCA in Longville, MN in Cass County, which spans the Mississippi Headwaters and Mississippi Corridor North Conservation Program Areas.
The event site showcased this extraordinary land protection project of over 600 acres permanently protected! Learn more about the Minnesota Land Trust and Camp Olson.
2021 Award Recipients:
Bill Majewski, John Peck Volunteer of the Year
Dan and Cindy Rogers, Landowners of the Year
Camp Olson YMCA, Partner of the Year
2021 John Peck Volunteer of the Year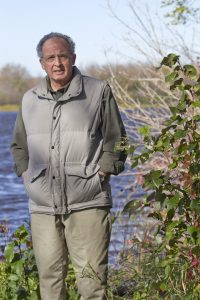 Bill Majewski recalls that his involvement with the Land Trust began when he attended a recruitment meeting for volunteer easement monitors at the invitation of an old paddling partner: "I signed up and he didn't!' chuckled Bill. In the 15 years since, Bill has monitored 50 properties across northern Minnesota. "I really enjoy the enthusiasm of the landowners who grant the conservation easements," he noted.
More recently, he also put his woodworking skills to use to benefit the Land Trust, donating two beautiful common tern decoys he whittled for the Minnesota Made fundraiser earlier this year. Each carving took over 32 hours to create.
Remarkably, the longtime Duluth resident's tenure with the Land Trust is dwarfed another volunteer commitment: the clean-up and restoration of the St. Louis River, which he has worked on since the river was first listed as an Area of Concern in 1987. After representing the City of Duluth on the original steering committee, he went on to serve as board chair for the St. Louis River Alliance and remains passionate about the work to eventually delist the river.
"Bill has been essential to the success of the clean-up of the St. Louis River Estuary," according to Director of Restoration Programs Daryl Peterson, "He is always a problem solver and willing to roll up his sleeves and volunteer."
View all John Peck Volunteer of the Year Award recipients
2021 Landowners of the Year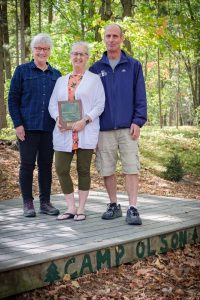 When Dan and Cindy Rogers ponder the question, "What do you leave for those who follow in your footsteps?" their unequivocal response is "open spaces, free from development."
The Rogers watched the slow, but steady creep of urban sprawl and the subdivision of large farms into 5- or 10-acre homesites near their hometown south of Bemidji. In 2004, they decided to take action and made the decision to protect their land forever. They placed a conservation easement on much of their property and in subsequent years donated two additional easements, protecting more than 600 acres of beautiful landscape.
The large tracts of open fields, hardwood forests, and wetlands provide critical and needed habitat for species like black bear, wolf, white-tail deer, ruffed grouse, bluebirds, migratory waterfowl, shorebirds, and humans!
Dan's profession as a science educator at the Red Lake Indian Reservation provides him opportunity to convey the value of open green space to his students. By offering outdoor experiences at the high school like camping, Nordic skiing, and hiking, Dan hopes to impart a strong connection to the land.
Both Cindy and Dan say they "feel a sense of gratitude" that they were able to protect beautiful land for future generations. They are especially proud that their grandchildren will be able to enjoy and love the land, just as they have.
View all Landowner of the Year Award recipients
2021 Partner of the Year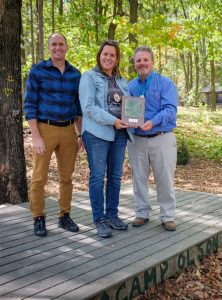 When stepping foot in YMCA Camp Olson, prepare for a fresh, cleansing breeze, the echo of a loon call, and an ethos committed to "preserving a paradise of beauty for youth and their leaders for years to come" per the words of camp founders E.O. and Bella Olson.
To cement the camp's commitment to preserving the Northwoods, Camp Olson has permanently protected over 700 acres, nearly half of the camp's land base, and 20,000 feet of shoreline on six lakes during the past three years. But their commitment did not stop there, they dedicated a portion of the money they received from the conservation easement to their endowment that supports youth scholarships, ensuing that the legacy of Camp Olson endures and is accessible for generations to come.
Board President of Camp Olson YMCA, Jenny Sall stated, "We are thrilled to continue honoring the legacy and dreams of our founders. These easements will provide Camp Olson a future of optimism, sustainability in our operations and on our property that supports our commitment to environmental stewardship for future generations."
It probably comes as no surprise that Camp Olson was selected to receive the Partner of the Year Award. Camp Olson is truly living their values and leading by example through committing to conservation in a meaningful way.
"We are delighted that Camp Olson is preserving the Northwoods for generations to come and thrilled that together we are ensuring scholarships for the next generation of youth to respect and love the outdoor world," says Kris Larson, executive director at the Minnesota Land Trust.
During the Treasured Places awards ceremony, Camp Olson also participated and presented four of their "Keeper of the Dream" awards, recognizing Jim and Carmen Campbell, Mike Holmes and Larry Pederson. And Sean Kempke, former Camp Olson board member, donated a to-scale property map made with LEGOs to Camp Olson.
After the awards, there were a variety of breakout sessions including hiking, canoeing, kayaking, pontoon riding, and hearing from one of our partners, the Northern Waters Land Trust. Thank you to all who participated and congratulations to all Honorees!
View all Partner of the Year Award recipients
Treasured Places 2021 Event Photo Album
Click or tap an image below to view a larger version and begin an image slideshow.