Join us for an evening of fun and generosity as we raise money to permanently protect and restore the very best places in Minnesota.
Live Auction Preview
CELEBRITY FOOD WRITER BETH DOOLEY
Coauthor of the James Beard Award winning cookbook The Sioux Chef's Indigenous Kitchen, as well as this year's smash success cookbook Sweet Nature; Beth Dooley will come to your home and prepare an unforgettable meal for you and your guests. This culinary adventure for 8 will provide you with a one-of-a-kind evening of exploring the wonderful flavors of natural Minnesota. "Eat Well, Eat Local"
Donated by Beth Dooley
---
PARTY ON THE ICE!
This is your rare, exclusive ice fishing adventure! Spend the day in comfort on a metro-area lake in this 30-foot "King's Castle"; the perfect hideout where you will be royally treated and Chef Lukas Leaf will prepare you and your guests a delicious shore lunch on the ice or in the castle warmth.  4 guests total
Donated by Ted Erickson and Mark Norquist, Founder-Modern Carnivore
---
FLY FISHING IN PARADISE – RAHR RANCH IN MONTANA
Enjoy an authentic ranch setting with your host, Willie Rahr, for 3 days and 4 nights at the comfortable Rahr Ranch, complete with wide-open spaces and breathtaking views. This is your once-in-a-lifetime opportunity to fly fish on the crystal clear waters of one of Montana's most beautiful yet threatened rivers in America, the Smith River. Fish, hike and take in the vast starry nights in Big Sky Country. For up to 6 people. Travel not included. Available last 2 weeks of September 2019. This will be an unforgettable trip!
Donated by Willie Rahr
---
SUMMER LOLLYGAGGER PACKAGE
Two Tall Lollygagger Loungers (with an integrated bottle opener hidden under the arm!) plus a side table, a Polaris Northstar 105 QT cooler, a nifty set of BBQ tools and a case of Bent Paddle beer says "Minnesota Summer" like no other! The uniquely Minnesota-made furniture by Loll is where high design meets the rustic north woods. Made from 100% recycled plastic, it's easy to clean and requires no maintenance. Chairs and table color: Charcoal gray. Cooler color: Desert
Donated by Loll Designs and Polaris
---
LISTENING POINT AND BURNTSIDE LAKE ADVENTURE
Listening Point was the iconic inspiration for author Sigurd Olson who was influential in the protection of the Boundary Waters and helped draft the Wilderness Act of 1964. You'll be able to spend time in the very same spot where Sig did all his big thinking and see his writing shack. The day starts with a boat tour of Burntside Lake, gateway to the BWCA. You'll also see several rocky islands and other properties that are protected by the Land Trust. Executive director, Kris Larson will host lunch and the tour. 4 guests
Donated by Listening Point and Minnesota Land Trust
---
BEAVER BAY RESPITE
The quintessential North shore experience! Enjoy a one-week stay on this beautiful Land Trust protected property with over 1/3 mile of rocky, private shoreline. A central main cabin with additional shore-side cozy cabins comfortably sleeps up to 10. Canoe and kayak available for your use. Nearby paved bike trail to Split Rock Lighthouse and Gooseberry Falls. Less than one hour north of Duluth. Flexible dates, May thru September 2019 or 2020.
Donated by David Hartwell
---
Silent Auction Spotlights
Keeping with our tradition of offering Minnesota Made items, this year's auction promises to deliver!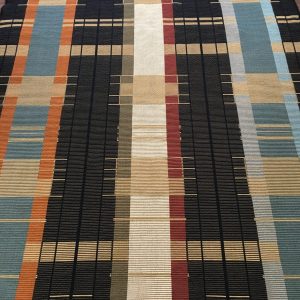 This is your chance to score a stunning handwoven textile created by local artist, Kelly Marshall. This 6' x 8' rug is reversible, 95% cotton/5% linen. Where art and function combine to provide a beautiful look for your home!
Donated by Custom Woven Interiors, LTD.
---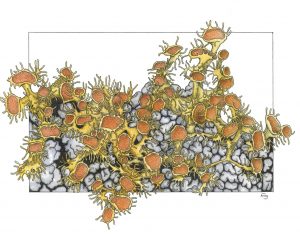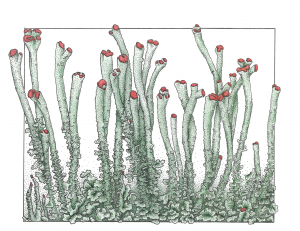 Who knew lichens were so cool?!
Besides offering some fun puns of "liking it" because we're "fun guys!" these symbiotic organisms of fungus and algae are indicators of healthy ecosytems, provide food and habitat for wildlife, and convert carbon dioxide to oxygen (great for humans!)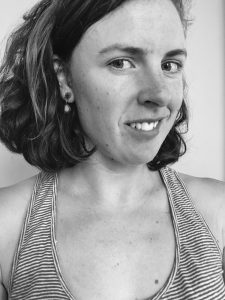 Land Trust Program Manager Haley Golz creates delightful illustrations of magnified lichens that come to life on the page. See more of Haley's work at lichenlandscapes.com and be sure to bid on these gems at the silent auction! (Four framed prints will be offered as a set.)