The Minnesota Land Trust's Twin Cities Metro Conservation Program Area encompasses the rapidly growing Greater Minneapolis-St. Paul Metropolitan area that contains a majority of Minnesota's increasingly diversifying population.
The Minnesota Land Trust's 2017-2027 goals for the Twin Cities Metro are to:
Protect 5,000 acres of private lands
Restore 1,500 acres of public and private lands
Provide outdoor experiences in one community engagement project
This program area grades from densely populated and heavily developed at its core to predominantly agricultural at its perimeter. The Minnesota and St. Croix rivers merge with the Mississippi here, providing important wildlife corridors for wildlife and migratory birds. The program area is notable for its varied habitats, including oak savannas, Big Woods forests, prairies and wetlands, that support one of the highest concentrations of Species in Greatest Conservation Need in the state. Areas supporting these diverse natural habitats also provide outstanding scenic and recreational opportunities for the large population base of the Twin Cities. As land conversion intensifies for human uses, natural habitats and water quality are increasingly threatened.
To date, we have protected over 16,500 acres in the Twin Cities Metro.
Twin Cities Metro Conservation Program Area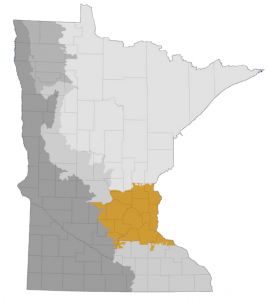 The Twin Cities Metro Priority Conservation Program Area plan incorporates geographic information analyses and structured conversations between Land Trust staff, members of the board, and key partners. The plan identifies conservation strategies for the inner and outer metro, geographic focal areas for protection and restoration, and opportunities to expand engagement work in the Metro area. These engagement strategies seek to foster a conservation ethic that inspires new generations of natural resource stewards.
By equitably engaging diverse communities, we seek to expand every Minnesotan's opportunities for meaningful and lasting outdoor experiences.
Strategies for Protection, Restoration, and Engagement
Strategy 1. Recognize the Diversity and Changing Demographics of the Metro Area
Balance protection, restoration, and engagement to address the variable conservation needs and opportunities in the Inner and Outer Metro.
Focus on diversity, equity, and inclusion within the Land Trust.
Develop working relationships with non-traditional partners to seek community-based and community-led projects.
Strategy 2: Protect "The Best of the Best" Remaining Terrestrial and Aquatic Habitat
Identify and protect the highest quality remaining habitat.
Prioritize projects that enhance biodiversity, resilience, and public benefits by creating large protected complexes and corridors.
Seek to combine protection projects with restoration efforts.
Strategy 3: Protect and Restore Land that Benefits Communities
Work with our county and local partners to implement their conservation priorities.
Seek on-the-ground projects that connect people to the outdoors that are authentically driven by community values and priorities.
Strategy 4: Restore and Manage High Quality Terrestrial and Aquatic Habitat
Restore terrestrial and aquatic habitat to support protection goals.
Ensure consistent, coordinated, and long-term management of high quality habitat by assisting with management plans, resources, and partnerships.
Evaluate opportunities for a large signature restoration project.
Strategy 5: Foster a Conservation Ethic
By 2021, determine a strategy for community conservation engagement, including developing relationships, choosing a geography of focus, identifying specific projects and activities, and developing a funding plan; examples of possible activities include:

Identifying gaps in protected lands that serve to engage youth in the outdoors or
Identifying gaps in physical access to natural areas and outdoor experiences
Increasing public connection to protected lands and involvement in restoration projects through events such as citizen science events and work days.
Our Focus for Conservation in the Twin Cities Metro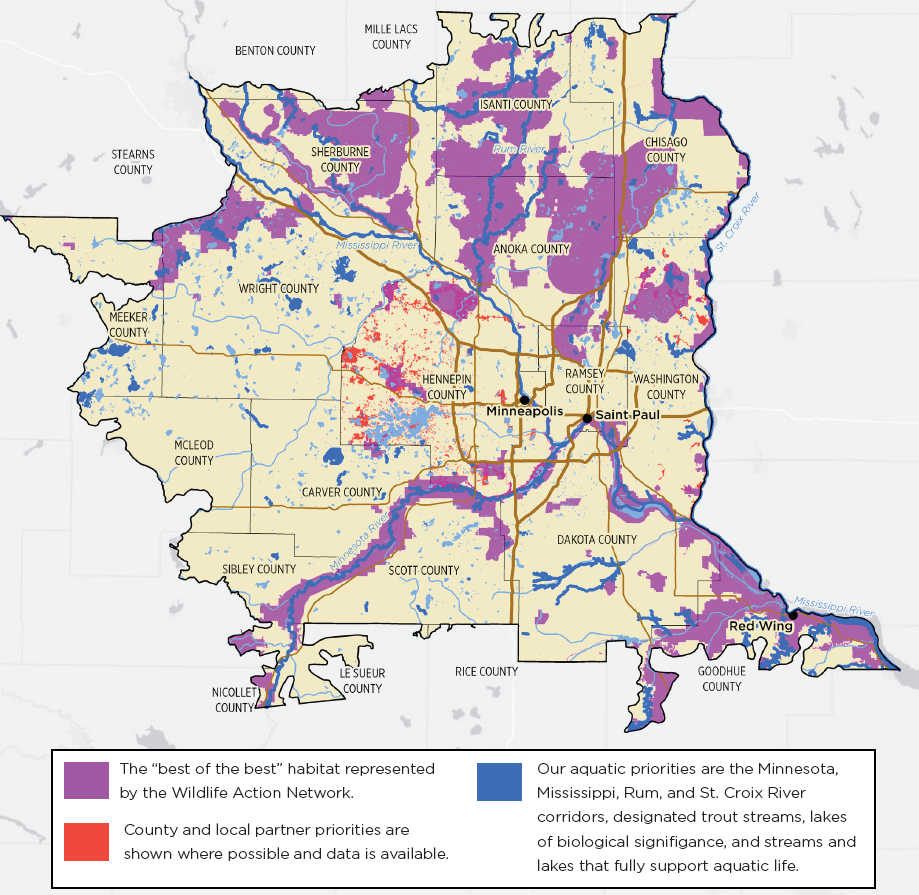 The focus of our protection and restoration work within the Twin Cities Metro is based on these primary strategies:
Protect the "best of the best" remaining terrestrial and aquatic habitat
Work with our county and local partners to help them achieve their conservation priorities
Focus on habitat connectivity and river corridors
Restore and protect areas that provide public access
Significant Opportunities for Conservation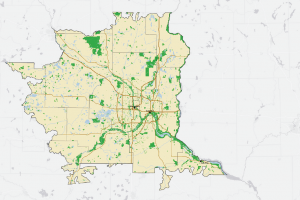 The Twin Cities Metro region is the largest, most urbanized location within our state. However, the combination of only 9% of the region being permanently protected (shown in green on the map) and large areas of high-quality habitat remaining make it an important focus for conservation.
Considering a Changing Demographic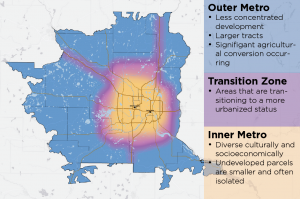 The Twin Cities Metro planning area encompasses a diverse, complex, and changing set of demographics. Recognizing these characteristics, our approach to delivering Protection, Restoration, and Engagement within the planning area is based on an Inner and Outer Metro concept with a transition zone, as shown in this map.
Strategies for Conservation in a Diverse Landscape
This graph shows the relative emphasis of Protection, Restoration, and Engagement in the Inner and Outer Metro to achieve our program area goals.
Protection is our primary focus in the Outer Metro. In the Inner Metro, protection efforts will most often be tied to engagement opportunities.
Restoration will be emphasized on the private lands of the Outer Metro. In the Inner Metro, we see restoration as strongly linked to engagement opportunities.
Engagement will have less emphasis in the Outer Metro. In the Inner Metro, engagement will be a focus for our efforts.
Implementing Our Conservation Agenda to Honor our Promise of Perpetuity
In 2017, the Minnesota Land Trust launched an ambitious 10-year state-wide Conservation Agenda to address Minnesota's conservation needs over the next decade. This is one of eleven program areas identified in the statewide Conservation Agenda and below are several of the outcomes identified.
Continue to Deliver Conservation Excellence Statewide
The Land Trust is committed to protecting the best of the best natural lands and waters across all of Minnesota. We will continue to work statewide to protect and restore high quality natural habitats and the species that depend on them.
Continue Our Successful Strategy of Conservation on Private Lands
Roughly 75% of Minnesota is held in private hands. To meet Minnesota's conservation goals requires the Land Trust to work effectively with private landowners. For the past 25 years, the Minnesota Land Trust has done just that. Yet, that's not good enough. Species loss, climate change, and deteriorating waters are just a few of the reasons we need to accelerate conservation in Minnesota.
In the next decade, the Land Trust will more than double our pace of land protection and restoration by implementing innovative projects throughout all our program areas.
Build Full Service Programs that Encompass Protection, Restoration, and Engagement
In at least three of the program areas—the Twin Cities Metro, Southeast Blufflands, and Lake Superior Program Areas—we will develop more "full service" programs to meet the diverse needs and opportunities in these areas. Here we will build strong partnerships and employ a full complement of conservation strategies to protect land, restore habitat, and engage diverse communities.
We believe that connecting people to the great outdoors will ensure that people care about the environment long into the future.
Grow Our Organization
In order to provide the high quality, permanent conservation outlined in the Conservation Agenda, the Land Trust is committed to adding resources that will guarantee organizational growth and sustainability, continue our legacy of innovation, ensure conservation excellence, and allow us to deliver on our promise of perpetuity.