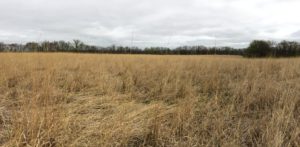 The City of Red Wing is renowned for its open and natural places, however as the municipality has grown, development has encroached on what was previously woodlands, agricultural fields, and bluffs. But thanks to the Ghei family of Red Wing, 69 acres of land in the city will remain in its natural state. Since 2001 Johanna Ghei and her three children have worked to restore the natural habitat that can now be found on their property, and now, with a conservation easement with the Minnesota Land Trust, this unique landscape is protected forever.
For Gita Ghei, protecting the land was more than just about the plants and wildlife — it was about a family legacy of conservation. The property has been in the family since 1956, when Gita's grandfather John Anderson purchased it with the express goal of protecting it from future development. "After our grandfather passed, we thought it was important to keep the land natural; that's the way our grandparents would have wanted it," says Gita. "My mother was pretty clear about the importance of having wild spaces for migrating birds, as well as our concerns about development."
"There are a lot of nice old oak trees, a little savanna, and all the characteristics Minnesotans really love; like nettles, lots of wildflowers in the spring, and a high oak canopy. We would always go see the wildflowers in the spring, and under those oaks would have a nice quiet, calm space."
This property helps add to a larger complex of protected lands around the City of Red Wing. It abuts another protected property, and is within a few miles of 2,000 acres of State Forest lands, four other Land Trust easements, and seven State-managed areas of public land. In total over 5,000 acres (equivalent to almost 8 square miles) of public and privately-protected lands exist within two miles of the Ghei's land.
"We are really excited about how protecting this land was adding another piece into the puzzle to make sure there are larger areas protected for wildlife," says Gita.
Protecting this property in particular offers benefits for water because of the permanently protected stream that runs over the property (and perennial vegetation that surrounds it). They play an important role in filtering and storing water, enhancing both the water quality and recreational aesthetic of the Lower Cannon River.
Protecting the water quality and critical wildlife habitat of our state depends on the generous spirit of Minnesotans like the Ghei family. By taking this important step to preserve their land forever, they are ensuring that the wildlife and birds that rely on these areas will have habitat long into the future.
The Ghei family property is also important not just because of the habitat and water quality benefits it provides but also for its significant historical and cultural value as well; the surrounding area where the land is located once supported one of the largest Native American populations in the Upper Midwest, with numerous villages established in the area between 1050 and 1300 CE.