As the city of Cold Spring has grown, development has come with it, chipping away at the natural lands surrounding the city that so many have used for recreation and hunting. In spite of this changing landscape, local residents Elaine and Frank Lindell are determined to preserve the way of life they have enjoyed on the land, and have worked to restore and protect their land just outside of city limits. And now, thanks to an easement through the Minnesota Land Trust, that unique land they hunt and recreate on will be kept in its natural state forever.
Elaine and Frank's son Tom Lindell grew up hunting and enjoying the natural lands around Cold Spring. "We grew up in the area and have been in Cold Spring at least 55 years now," says Lindell. "It's nice to still be able to get off work and make it out hunting in the evening on this land, and create a place for our family friends to teach their kids to hunt."
The family has taken the protection of the property seriously, and even before working with the Land Trust managed it for decades. "My dad always enjoyed planting trees, and he planted thousands of trees locally, and at least 20,000 more up north," says Lindell. That conservation ethic has continued to this day, as the family has worked to restore the natural features of the land with the support of the Minnesota DNR.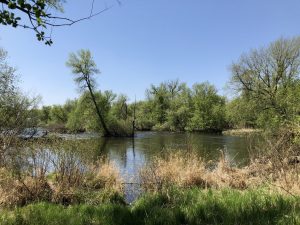 More than just family hunting land, this land helps protect the water quality of the Sauk River. With over 2,800 feet of shoreline along the Sauk, what happens on the property has a direct impact for everyone downriver.
"What Elaine and Frank have done in protecting and restoring their land really has ripple effects for everyone in Cold Spring and downriver in St. Cloud," says Kristina Geiger, program manager at the Minnesota Land Trust. "The restoration work on their land will help improve the water quality of the Sauk River and its watershed."
In the end, the Lindells' decision was about family and making sure their land is managed by people who love and are connected to the land.
"Most people think of this easement as totally restricting our land," says Lindell. "But that's not true. We can continue using it for the reasons we bought it in the first place – the enjoyment of wildlife and hunting. We've seen red-tailed hawks, turkeys, deer, trumpeter swans, cranes, fox, coyotes and even bear – all on this land."
"A conservation easement keeps the land in private hands, so the family can continue to enjoy it as they have for generations to come," says Geiger. "A project like this that lets them keep recreating on their land as they always have, while doing so much to protect the water we all rely on – well, that's a win-win for all of us."