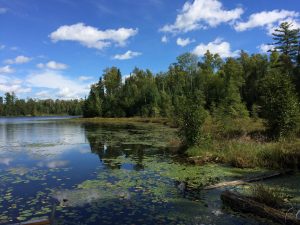 In northern Itasca County, in an area surrounded by small, clear water lakes and deep rich forests, lies the property of Mary Killeen and Jacob Fillion. First homesteaded in 1898, the property has been in the family for 120 years. Now, thanks to a conservation easement with the Minnesota Land Trust, it will forever be kept in its natural state, just like it was back when the original log cabin was built on the land.
"As we went up to the land year after year, and put in a management plan with the Forest Service, we became more educated on the uniqueness of this property," says Mary. "That process of gradually understanding the value and importance of it overall was like a conversion for me – and I decided there was no way it was going to get sold, no way it was going to be developed. It was going to stay this way forever."
"We can be assured this land will stay the same now — the animals and everything the land feeds, will be there for perpetuity." adds Jacob.
Mary and Jacob have seen wolves, black bears, and a number of birds on their land, including a pair of nesting loons that return every year. Beyond the wildlife, this property is also of importance because it falls in the Mississippi River Headwaters. The shorelines on Ann Lake and Link Lake protected by this conservation easement will remain undisturbed forever, protecting the water quality of the lakes, and ultimately of the Mississippi River.
"This property is important in terms of water quality, and also because of its great importance to fish and wildlife species in northern Minnesota," says Pat Collins, program manager with the Minnesota Land Trust. "By protecting their land with the Land Trust, Mary and Jacob are helping build critical connections for the wildlife and birds that rely on this unique Minnesota habitat to survive. And with the land staying in private hands, the landowners will continue to pay property taxes, recreate, and actively manage the land as they have been which is great for the region."
"On our latest drive up as we crossed the Mississippi, it was exciting to cross it and know that a little bit of that is us," says Jacob. "Since our land is in the watershed, we have a little something to do with the water reaching the Gulf of Mexico."
"Protecting the water quality and critical wildlife habitat of our state depends on the generous spirit of Minnesotans like Mary and Jacob," says Kris Larson, executive director of the Minnesota Land Trust. "By taking this important step to preserve their land forever, they have highlighted a unique part of our state's heritage and help to protect Minnesota's clean water legacy."
This permanent conservation easement was made possible thanks to the members of the Minnesota Land Trust and with funding from the Outdoor Heritage Fund, as appropriated by the Minnesota State Legislature and recommended by the Lessard-Sams Outdoor Heritage Council (LSOHC). Thank you to all our members and supporters, and most of all to Mary Killeen and Jacob Fillion who protected this unique property forever!