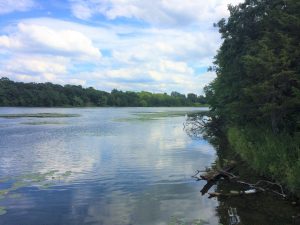 The Jannusch family has lived and farmed on property by Hunter Lake for generations, and with a conservation easement through the Minnesota Land Trust they were able to permanently preserve that legacy, and protect threatened habitats, the open spaces and farm land they have worked to maintain for decades.
This property is of particular value for conservation, as it includes the last pieces of undeveloped shoreline along both East and West Hunter Lake. West Hunter Lake is publicly accessible with an excellent largemouth bass fishery, and protecting the shoreline will help reduce runoff and keep the water clean for generations to come. The land also features prairie and oak savanna (two imperiled ecosystems), both which require disturbance (i.e. active management through burns) to keep them healthy.
The property also features a unique geologic feature – an esker. Eskers are long ridges which were created by water flowing under glaciers as the glacier melted away.