Some of the most spectacular views in our whole state can be found in the Blufflands of Southeast Minnesota. Untouched by glaciers, these high bluffs and deep valleys have been carved over the years by the Mississippi River and its tributaries, leading to the unique and beautiful landscape that you can see today.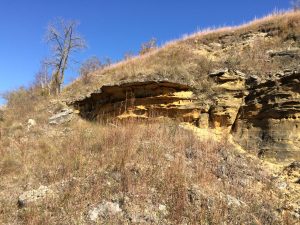 The unique beauty and habitat offered by these bluffs is what first drew members of the Zephyr Hills Community Cooperative to the area, and they worked hard to care for the property and its unique habitats over the last 25 years. Now, working with the Minnesota Land Trust on a permanent conservation easement, the Coop has protected 155 acres of land forever.
The property has a number of important features which make it especially valuable for conservation. It features a large swatch of oak savanna, the last bit of which has nearly disappeared from Minnesota. With only 1% of the pre-European settlement oak savanna remaining in our state, this ecosystem is more important than ever to protect and preserve.
The property also features two springs which directly link to groundwater sources, protection of which is very important to long term water quality in the area.
Finally, a number of important species use the property for habitat, such as the timber rattlesnake, a threatened species in Minnesota. This snake relies on the rocky outcrops found on the property which house not just snakes, but beetles and other insects.