Help us reach our $30,000 goal with your special one-time gift!
This year marks the Land Trust's 30th anniversary and to set the stage for the next 30 years of conservation we have secured a $30,000 match from Ellinor D. and Edward J. Hayward.
If you give a gift between now and November 30th you can double your impact to preserve and restore Minnesota's natural world.
You make this work possible. Your generosity is critical to our success – and will help propel us forward for the next 30 years.
Please give today. Your gift will be matched for every dollar we receive up to $30,000 by November 30, 2021.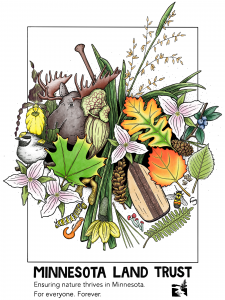 For donations of $300 or more we will send you a commemorative 30th anniversary poster created by Haley Golz, Minnesota Land Trust Restoration Program Manager. This colorful 18″ x 24″ poster depicts Minnesota flora and fauna and includes a key on the backside. If your gift qualifies, please indicate in the "Note" section below if you would like a poster. Hurry! The offfer ends November 30, 2021.

*Thermometer may take up to 36 hours to reflect your contribution.